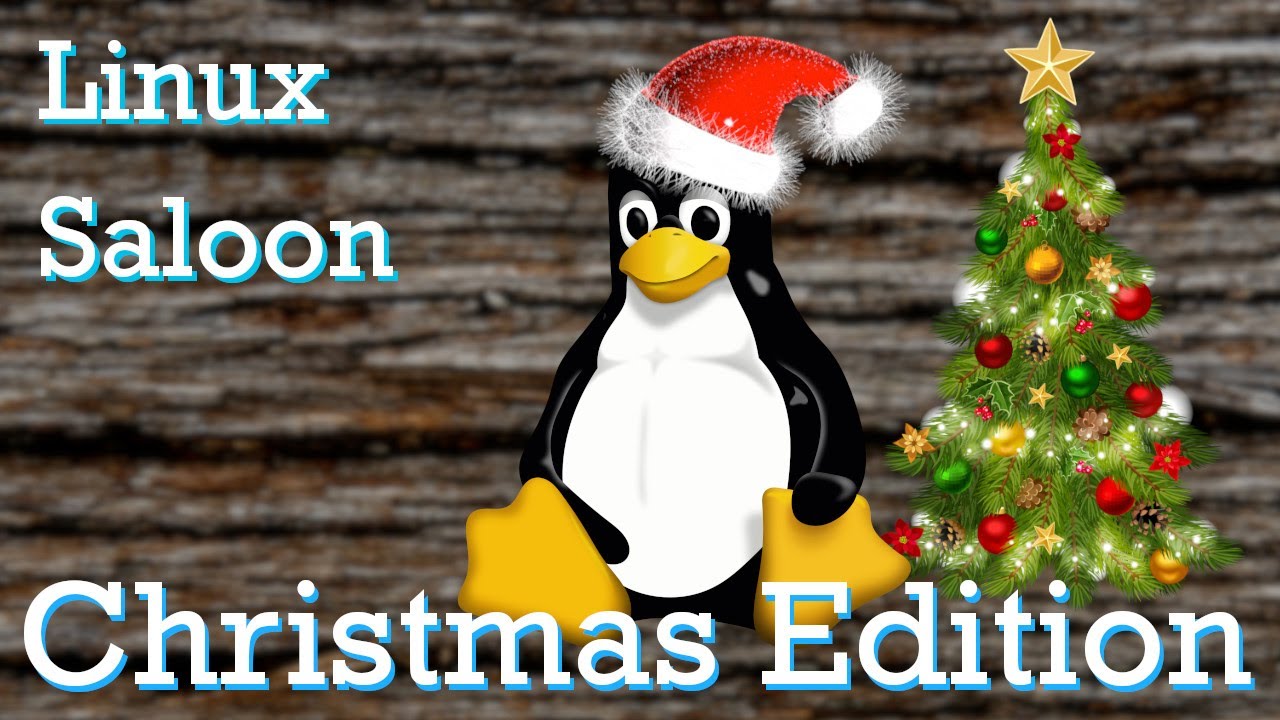 This is the last Linux Saloon for 2022, I want to thank you all for watching and being a part of the conversation. 2022 was a great year and I am looking forward to next year and all that it brings. Like every other Saturday night, Linux and open source are on tap.
We talked about a lot of great bits of open source software out there you can run in Linux, ranging from a GNOME extension to enjoy the snow on your desktop to Xsnow, and application where you can have a Christmastime shared amongst your digital work to some whimsical games for the whole family to enjoy… and one that maybe is not best for the little ones.
Thanks so much for your continued support in watching, sharing and subscribing to Linux Saloon.
00:00:00 Introductions
00:02:25 Colin Packing up his Tech
00:22:10 Nate's video on the Commodore 1541 Impostor Media Module
00:25:17 StrawPoll - Number of additional Distros you use
00:40:47 Christmas Theme Linux and Tech Software
00:41:00 GNOME extension, Let it Snow
00:42:29 Xsnow and Xpenguins
00:45:30 Christmas Tree in the Terminal
00:46:30 Wayland, Xwayland Incompatibilities
00:55:48 Christmas Mansion
00:57:18 Christmas Massacre
00:58:34 Extreme Tuxracer
00:59:27 Elf Bowling
01:00:59 Log fire in the Terminal
01:03:02 Christmas Luge
01:04:19 Christmas Tree Clicker
01:04:58 Applications that add temporary Christmas Theme
01:06:33 Christmas Themed Special addons for Games
01:10:33 Too many Gadgets?x
01:14:32 Model Railway Easily Christmas
01:19:40 Ho Ho Home Invasion Game
01:21:09 Adam has a NEW Asus AMD powered Laptop
01:26:21 MicroOS Nvidia Christmas Miracle
01:34:00 Eric's Broken Keyboard Project
01:45:18 Laptop Preferences for Repairability
01:58:40 Closing Time
02:02:27 Bloopers
02:03:02 8-Bit Christmas
Discuss here on the Tux Digital Linux Forum
Linux Saloon Community chat on Telegram:
http://telegram.linuxsaloon.com
Discord Server:
http://discord.linuxsaloon.com
Other Resources
https://tuxdigital.com/
http://LinuxSaloon.com
http://CubicleNate.com
Falling Snow on the Gnome Desktop
https://extensions.gnome.org/extension/1547/let-it-snow/
Christmas Tree in the Terminal
https://www.cyberciti.biz/open-source/command-line-hacks/linux-unix-desktop-fun-christmas-tree-for-your-terminal/
Christmas Mansion, Steam Store
https://store.steampowered.com/app/1824170/Christmas_Mansion/
Christmas Massacure
https://store.steampowered.com/app/1840490/Christmas_Massacre/
Elf Bowling
https://en.wikipedia.org/wiki/Elf_Bowling
LGR- Elf Bowling
https://www.youtube.com/watch?v=28TyIsCwkQo
Log Fire in the Terminal
https://www.makeuseof.com/create-log-fire-and-rainstorm-in-linux-terminal/
Christmas Luge
https://store.steampowered.com/app/2241190/Christmas_Luge/
openSUSE Penguins Grub screen :
https://www.youtube.com/watch?v=qCuPSk9Afzs
Homedl Railway Easily Christmas
https://store.steampowered.com/app/926420/Model_Railway_Easily_Christmas/
HoHoHome Invasion
https://store.steampowered.com/app/1482830/HoHoHome_Invasion/
CubicleNate video on Commodore 1541 Impostor:
https://www.youtube.com/watch?v=rlurQSRI5-A
Instructables 3D Scanners
https://www.instructables.com/3D-scanners/x
Fortnite on the SteamDeck
https://cubiclenate.com/2022/12/19/fortnite-on-the-steamdeck/
linux #ChristmasTech #applications #LinuxSaloon opensuse #ARM #laptops #software